Welcome to the official Sunshine Coast Trail website
The Sunshine Coast Trail is a 180-kilometre back country hiking experience that stretches from Sarah Point in Desolation Sound to Saltery Bay. It began in 1992 when a small group of people founded the qathet Parks and Wilderness Society (qPAWS) and started building hiking trails that linked the remaining stands of old growth forests in the region's front country.
Attracting hikers from around the world, this epic hiking trail now boasts 14 huts with one more planned next year. That makes it Canada's Longest Hut-To-Hut Hiking Trail – and the only free one. This is the best outdoor adventure vacation value in North America!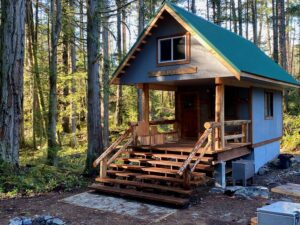 What are you waiting for? Come see for yourself…
Want to help out?
We are always looking for people to come and help out with trail maintenance and building projects. We also seek those who are interested in behind-the-scenes work like marketing, publicity and organizing events.
For information on upcoming opportunities and events, visit our Volunteer page.
Donations are always welcomed and go towards the maintenance and enhancement of the Sunshine Coast Trail.